Construction projects involve different types of excavation or earthmoving activities. Trenching is one of these.
What is Trenching?
Trenching or trench excavation is the creation of a narrow cut or cavity under the earth's surface. When you dig a trench, the length of the excavated area typically exceeds the width. If the depth is less than six metres, the trench is considered a shallow trench. Meanwhile, excavations exceeding 6 metres are deep trenches.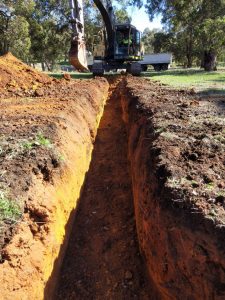 When are Trenches Dug?
Trenches are an essential part of the construction activities or maintenance of any site or infrastructure. Below are situations that call for digging trenches:
Installation or replacement of drainage, gas, power, or sewer lines
Building strip footing or foundation
Installation of sprinkler systems
Formation of retaining walls
Using a trench digger speeds up the process significantly, reducing costs. There are different sizes based on the type of job.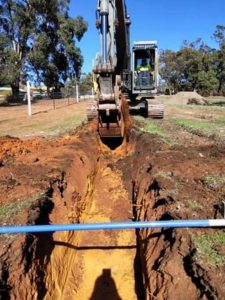 What are the Hazards in Digging Trenches?
Digging trenches poses many safety hazards. These may include the following scenarios:
Cave-in
A trench may collapse because of a poor structure or support system. Cave-ins can trap site workers under the ground and cause serious bodily injuries and asphyxiation.
Hit Buried Services
When support systems are not properly installed, they can hit power cables, gas pipes, or water mains. If such accidents happen, they may cause electrocution, burn injuries, and exposure to hazardous gases. They may also temporarily interrupt utility services in the affected areas, this is why the owner or person in charge of any site must contact dial before you dig or hire a pipe locator before any digging proceeds.
Slip, Trips, and Falls
Lack of proper fencing and safety signage may lead to people, machines, and other objects falling into the excavations. Poorly installed access equipment like ladders can also make it difficult to climb in and out of the trench.
Flooding
A broken water pipe or heavy downpour can flood the inside of the trench. If the trench is shallow, water can reach and flood the construction site.
Collapse of nearby structures
Excavating close to a building can weaken its foundation. If continued, it may cause the structure to collapse.
Falling loads
Excavated dirt may fall into a trench and crush people working underground. It is recommended to disallow working inside the trench during excavation to avoid such instances from happening.
For your excavation and earthmoving projects in Perth and West Australia, hire Dobson Excavations. We offer a wide range of services and high-quality equipment for your next construction project. Our team of experienced contractors will ensure that your project is completed safely and promptly.
Contact us here for a quote or to know more about our services.