Earthmoving Contractors of Machinery Hire Safety on Site Perth-Hamel-Harvey-Uduc
Safety for ground workers near earthmoving contractors with machinery.
A traffic management plan is required to be planned developed and implemented. Determine access points of the site, view where machinery will travel and operate from personnel staff will be working. A map can be created that clearly marks the areas where machinery and or pedestrians cannot go. Ensure break areas and parking facilities will have good visibility and clear of machinery operations. Staff personnel should have safe and clear walkways to and from these areas.
Excavators, Bobcats, Traxcavators, Loaders etc have blind spots in areas around their machinery, blind spots preventing the operator from seeing persons or objects within certain angles, directions, etc.
Summary of Work place, Plan Work, develop and implement a traffic management plan and train persons on no go zones, Know the blinds spots of equipment, Use controls cameras, alarms equipment reserve beepers.
That is why safe work practice should be in place, also personal staff and people near sites should be aware that Earthmoving contractors of machinery operators can not always see them.
At Dobson Excavations we are experienced in safety on sites, contact our Earthmoving contractor Bruce 0414755306.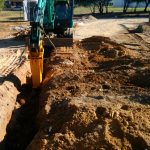 Hammering Rock