A driveway gives access to homes, garages, or parking lots. It also adds appeal to your home's exterior. A well-built driveway ensures the safety of the people and vehicles while utilising it. In constructing a driveway, you have several choices for the primary outlay material. You can choose from finishing it with concrete, limestone, gravel, bitumen, asphalt, or pavers.
Building a strong base
Whatever your choice of construction materials, how you establish the base of the pathway matters the most. The bottom base determines the strength and durability of the driveway against the daily load it has to support.
In building a solid base for your driveway, you have to deal with the bottom surface, and top surface or overlay of your driveway. With every stage of construction, employing a roller is significant in building up a strong base and ground for the driveway.
Here are the advantages of using a roller in constructing your driveway. Based on your region, you can find more information on our site: Driveway Construction Perth, Jarrahdale, Roleystone, Karragullen, Kalamunda, Bickley, Serpentine, Mundijong, Whitby, Hopeland, Keysbrook, Dandalup, Myara, Karrakup, Cardup, Byford, Oldbury, Wellard, Driveway Construction Baldivis, Keralup, Driveway Construction Rockingham, Port Kennedy, Secret Harbour, Golden Bay, Waikiki, Warnbro, Calista, Orelia, Oakford, Darling Downs, Armadale, Bunbury, Driveway Construction Mandurah, Pinjarra, Harvey, Wandering, Collie, Boddington, Crossman, Brookton, Beverley, Dwellingup
Level the ground well
Upon cleaning the soil and marking the area for your driveway, it is time to level up your space. You may need to add more soil or excavate a little to take the dirt out. After that, you have to compact the ground sufficiently. It's better to use a roller since it provides sufficient weight to compact the bottom layer. Another advantage of a roller is that it spreads out the soil evenly within your marked area.
It compacts stones and aggregates
When you are done compacting the bottom layer of the driveway, your Excavation business will supply and install the gravel you require, depending on the site they will drop loads off in the area which requires the material and spread with a bobcat. Then the surface will be rolled to compact the surface, watering maybe required if completed in warm weather. The water helps to keep the material moist, binding the material together when rolled. Rolling gravel driveways makes for a much smoother surface, the gravel adheres together prevents tripping for people walking over it and unexpected events where rock loses from the pavement.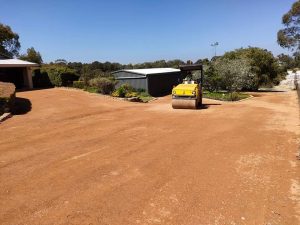 It creates a solid ground for asphalt or concrete overlay
If you choose to lay some asphalt or concrete on the surface of your driveway, the layers you have paved with rollers make excellent foundations for the surfaces. A vibrating double drum roller compacts and flattens the bottom layers to prepare for pouring concrete or applying asphalt.
Wet Hiring equipment is a better and more practical way of completing your driveway construction. By opting for wet hire services, you are assured of high-quality results in a shorter period because they are experts with what they do. You can have peace of mind that these operators are insured, licensed, compliant, and well trained.